If a stable of games can be built that, like Superhot VR, genuinely leverage the new capabilities of VR in a way that provides compelling gameplay—gameplay that's genuinely better than that of traditional graphics—then VR will deservedly become a fixture of the gaming landscape.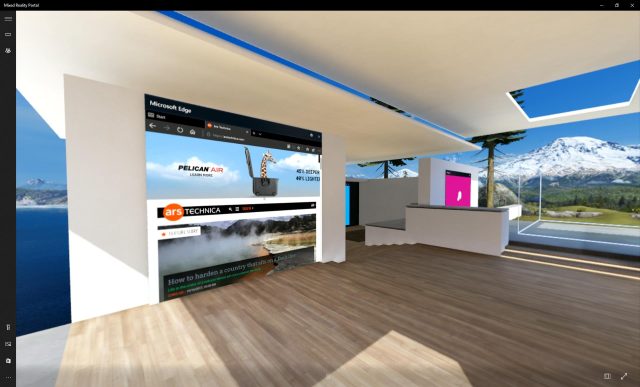 Microsoft, of course, has ambitions beyond gaming. The user interface for Windows Mixed Reality is an architecturally implausible house on the coast, with apps pinned to the walls. These apps don't have to be particularly "3D." Regular 2D applications such as the Edge browser and Skype are also visible in the house, with the apps looking a bit like paintings on the wall. In principle, any application built for the Universal Windows Platform (UWP) can be run in the house, and developers can extend 2D applications to provide 3D capabilities in a piecemeal fashion. Edge, in fact, does this: it supports WebVR, which enables Web content to embed 3D virtual reality graphics.
This means that you can, for example, watch a video in the Movies and TV app, with the picture being projected onto a "screen" on the virtual wall of your virtual house. You can make the screen bigger so that it fills your field of view, or even extends beyond it, moving your head to take in the full picture. Microsoft isn't yet offering any kind of "virtual reality desktop" to support the infinite multiple monitors that some people have dreamed of—and VR headset resolutions would probably have to be increased before that became truly practical—but the house interface plants the first seeds of this kind of concept. It's up to developers to figure out what to do with it.